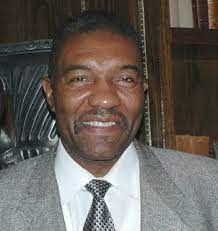 Robert Louis Shepard, PhD worked to increase participation of faculty and students from Historically Black Colleges and Universities (HBCUs) in the federal government's research enterprise. Early in his federal career provided definitive data showing the role a small cadre of these institutions could play in conducting high-quality research. In 1984 while in the Office of Research at the U.S. Nuclear Regulatory Commission (NRC) he successfully secured joint funding from inside the agency to create NRC's first HBCU research support program. That same year, NRC granted Shepard a leave of absence under the Intergovernmental Personnel Assistance (IPA) program to become a Visiting Research Scientist in the Department of Chemistry at Howard University. He used his IPA assignment to develop a conceptual framework demonstrating how collaborations and partnerships could be used to strengthen the research infrastructure at HBCUs resulting in more research output by these institutions.
At the end of his IPA assignment in 1988, Shepard returned to NRC. In 1990, he resigned from NRC to lead the formation of a University, Government, and Federal Laboratory, 501(c)(3) non-profit partnership called the Science and Engineering Alliance, Inc. (known as SEA).  SEA members included four HBCUs and a national laboratory. The HBCUs were: Alabama A&M University (Huntsville, AL); Jackson State University (Jackson, MS); Prairie View A&M University (Prairie View, TX); and Southern University and A&M College (Baton Rouge, LA). The national laboratory was Lawrence Livermore National Laboratory (Livermore, CA) who joined as an associate member, bringing the total SEA membership to five.
As Founding Executive Director/CEO of SEA, Shepard handled all aspects of SEA beginning with negotiating space for the new non-profit in the heart of what is known as "Lobby Row" at 1522 K Street in Northwest Washington, DC. Once established, he oversaw the management operations including facilities, equipment, program development, budgeting, and staffing with the mission to open more doors for research opportunities and expand access for faculty and students at HBCUs.
At SEA, he served as the scientific and business representative to federal agencies and other external groups on matters relating to broadening participation of HBCUs and other Minority-Serving Institutions (MSIs) in federally funded research and development (R&D) programs. Leading a small staff of four, his operating strategy was that the sum of SEA's collective strength was greater than that of its individual members. Collaborations and partnerships were the foundation for developing long-term R&D funding opportunities for these underrepresented academic institutions. Shepard's analytical work through SEA led him to become a chief negotiator for inclusion of HBCUs in the federal government's multi-billion dollars-a-year research enterprise. In 2002, the National Institute of Standards and Technology (NIST) requested to join SEA as an associate member. The request was granted by the SEA Board of Directors, which brought SEA's total membership to six.
According to data from the National Science Foundation (NSF)/Science Resources Statistics (SRS) Survey of Federal Support to Universities, Colleges and Nonprofits, from 1990 – 2009, the four SEA institutions totaled over $1.01 Billion in combined federal support.
After leading SEA for nearly a quarter of a century and the organization exceeding its mission, Shepard and the Board of Directors dissolved SEA in 2013. In that same year, Shepard formed The Shepard Institute (TSI), LLC as the vehicle to continue his push for the inclusion of faculty and students from HBCUs in the federal government's research enterprise.
Today Shepard spends time mentoring and writing. In 2013, he published his first book which was his autobiography titled, "Fulfilling My Destiny, Step By Step." Chapter 17 titled, "The Birth of SEA – for HBCUs," describes the development, structure, and workings of the organization on behalf of HBCUs. One reader wrote: "Dr. Shepard's autobiography is a tool box from which people can draw, regardless of race or ethnicity, learning that with faith and belief there are no barriers that cannot be overcome." In 2016 Howard University invited Shepard to join its list of TEDx Talk presenters.
Frequent questions about his life experiences led Shepard to write his second book in 2017 titled, "Fulfilling YOUR Destiny, Step by Step: A Self-Help Guide."  The Guide is a companion to his autobiography. The book contains thought-provoking questions that are intended to put users on a path that will help them avoid one of life's great tragedies, i.e., hopes and dreams left unfulfilled.
Shepard's motto is, "It's more productive to focus on your capabilities than on your limitations."
Dr. Shepard earned degrees in chemistry – a B.S. degree from Saint Augustine's College (now University) in 1969, and M.S. and Ph.D. degrees from Howard University in 1971 and 1973 respectively.  His specialty at the graduate level was Physical Organic Chemistry with a focus on Mass Spectroscopy.  In addition to the U.S., Shepard has traveled internationally to engage in research collaborations and make presentations in Scotland, Germany, Austria, Italy, China, and Africa.  He serves on several advisory boards, a member of various societies and organizations, a past Sigma Xi Distinguished Lecturer and has received numerous awards and honors including the 21st Century Trailblazer Award from the City Council of Jackson Mississippi. He is a member of Alpha Phi Alpha fraternity.
A native of Garner, North Carolina, Dr. Shepard now enjoys life moving between Maryland and North Carolina. He and his wife Alzonia are the proud parents of three adult children and three grandchildren. Shepard is in the early stages of formulating his thoughts for a third book in his "Fulfilling My Destiny" series.
Robert Louis Shepard, PhD
Principal
The Shepard Institute (TSI), LLC
Website: www.robertlouisshepard.com